I've made this spinach and artichoke dip a bunch of times and get compliments each time I bring it around! Warning: This recipe makes a TON of dip, so I recommend you save some in a side car for yourself and plop it in your freezer for a future hosting emergency/you want to impress your friends with how quickly you can just make yummy dip happen.
If there are two tips I can give you before you approach this recipe, they are:
Do not mess up the sour cream, mayo, and cream cheese ratio! If you put too much cream cheese relative to the mayo + sour cream you will end up with a really hard and tough dip that once it comes out of the oven and sits on your coffee table for 20 minutes, will become impenetrable. No chip or cracker can survive.
Sauté the spinach and artichoke. Sounds simple, but simply mixing all these ingredients together cold won't do the trick. Not only does the heat extract all the garlic and cheese flavor, but it also evaporates the extra liquid in the frozen spinach and canned artichoke, so your that dip isn't exuding water. Nast.
Lastly, if you want to perk this recipe up a bit, I've also made this by adding 1-2 tbsp of lemon zest at the end. It just adds something.  This makes it the perfect dip for a summer party as well.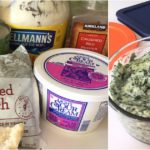 Looking for a fantastic and easy dip? I can't promise that this is healthy, but it is gluten-free, and can feed all of your hungry friends.
Servings

Prep Time

6-8

people

5

minutes
Servings

Prep Time

6-8

people

5

minutes
Looking for a fantastic and easy dip? I can't promise that this is healthy, but it is gluten-free, and can feed all of your hungry friends.

Servings

Prep Time

6-8

people

5

minutes

Servings

Prep Time

6-8

people

5

minutes
Heat olive oil in large skillet over medium heat.

Add garlic for a quick minute, careful not to let it burn.

Add the spinach use the flat end of a wooden spatula to break apart any of the frozen bits. Raise the heat to medium high to evaporate any of the extra water. Stir actively.

Add salt and red pepper flakes. (I like to add the salt before the artichoke because artichoke already has a fair bit of sodium in it to start.) Continue to stir.

Add artichoke and stir to combine. Bring the heat down to medium low once all watery liquid is gone from the pan.

Add cream cheese and stir to incorproate.

Add in the sour cream and mayonnaise and continue to stir.

Lastly, add the parmesan and peooer. Taste the dip mixture to determine if it needs more salt, cheese, or pepper.

As you can see, there is a TON of dip. Make yourself a side car and put it in the freezer. You'll thank yourself later. 🙂

Bake at 350 degrees for 20 minutes and serve! (No picture yet.)